We take SEO Audits very seriously here at Creative Boro. We provide them free of charge to anyone that requests one. We believe that every local business should work on their SEO - whether themselves or using our SEO services. With the release of a new Google SEO Audit using their Lighthouse Chrome Extension, we are excited. Here is what we think so far of the tool (February 2018). 
Easy to add to Chrome
Easy to use
Easy to print or download results
Not very extensive
Google will update to improve
Easy to add to Chrome
First, it is very easy to use assuming you have Chrome installed and know how to add extensions. If not, go here to download Chrome browser for desktop. Here is the direct link to the Lighthouse Chrome Extension for an easy add to Chrome, or you can find the extension using your Chrome browser menu. Here's how: Go to the 'Extensions' menu under 'More Tools' in Settings.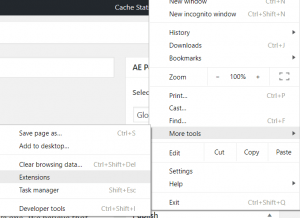 At the bottom of the Extensions page click on 'Get more extensions'. You will then use the search box to find 'lighthouse' (the one by developers.google). Then simply 'Add to Chrome'.
Once the Lighthouse Extension is added you will see its icon in the far right of the search bar. Hint: it's the blue and red thing that looks like a lighthouse if you get your nose up to the screen.
Easy to use
Do you know how to click? Then you can do this!
Go to the page you want to audit
Click on the Lighthouse icon in your browser
Click on 'Options'
Ensure only SEO is selected (click OK)
Click Generate Report
Too easy? I suppose the options menu doesn't need its own 'page' and could live on the main screen. Save at least two clicks. But it's easy enough for us to claim it is 'easy' in this blog!
Easy to print or download results
The SEO audit is done and the results are in a new Chrome window. Great! Now what? You can print or save pdf for starters. Give this to your Webmaster or start digging in yourself! There are a couple manual options that you do need to perform.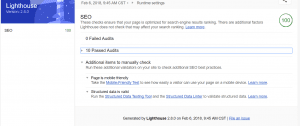 First is the mobile friendly test. If your site is not mobile friendly, fix that first! You will not rank as high - or maintain your high ranking - if your website is not mobile friendly.
Second is the structured data testing tool. If your site does not have any data or inaccurate data, fix this second! You are denying the search engines information about your local business, or blog, or eCommerce store. We use a WordPress plugin to manually add structured data to clients' websites. Those that use other platforms besides WordPress will need to check with their hosting provider or webmaster for more on how to add structured data to the code of your site. Note: structured data is not visible to the visitors of your website.
Not very extensive
As of Feb 6, 2018 we only have 10 audit checkpoints to see. While it feels great that we can pass all 10 on a website we build, we know more is coming. Google even has a disclaimer right now: "There are additional factors Lighthouse does not check that may affect your search ranking." With that said, there are some nice checkpoints to view in its current state. Here is the entire list with a short explanation from Google of each:
Has a <meta name="viewport"> tag with width or initial-scale - Add a viewport meta tag to optimize your app for mobile screens. Learn more.
Document has a <title> element -Screen reader users use page titles to get an overview of the contents of the page. Learn more.
Document has a meta description - Meta descriptions may be included in search results to concisely summarize page content. Learn more.
Page has successful HTTP status code - Pages with unsuccessful HTTP status codes may not be indexed properly. Learn more
Links have descriptive text - Descriptive link text helps search engines understand your content. Learn more
Page isn't blocked from indexing - The "Robots" directives tell crawlers how your content should be indexed. Learn more
Document has a valid hreflang - hreflang allows crawlers to discover alternate translations of the page content. Learn more
Document has a valid rel=canonical - Canonical links suggest which URL to show in search results. Read more in Use canonical URLs
Document uses legible font sizes - Font sizes less than 16px are too small to be legible and require mobile visitors to "pinch to zoom" in order to read. Strive to have >75% of page text ≥16px. Learn more
Document avoids plugins - Most mobile devices do not support plugins, and many desktop browsers restrict them.
You will also notice the pass or fail indication on the far right. If you fail one or more, then click on Learn more and get started on fixing! After all, this is just the beginning and more will be added soon.
Google will update to improve
This SEO audit can include so much more. Here is the Official Google Webmaster preview. We do wish it set a timeline and included some features in development.
The current Lighthouse Chrome extension contains an initial set of SEO audits which we're planning to extend and enhance in the future. Once we're confident of its functionality, we'll make the audits available by default in the stable release of Chrome Developer Tools.
We suggest to go ahead and add the extension so you have the new releases and features as they develop.
To recap, the Google Lighthouse SEO Audit Chrome Extension is just good enough to hold off complaints because of the ease of use. We do want more features and updates and more information about upcoming additions. Overall, we are excited to have this tool develop in 2018.
Want a free SEO audit? Go to Audit.Creativeboro.com and download one today!