For those of you that will take on building a website on your own – or hire someone else – you will need to plan and manage the build of your site.  It is your site, your company, your web presence that is on the line, so consider this checklist approach.  
We at Creative Boro have developed a Website Buying Checklist in order to help and educate everyone that needs a website. (That's You!!!) This is not a step by step guide on how to build a website.  No, those are everywhere.  We offer something unique. This series of articles present a way to ensure you are achieving your objectives while securing your investment of time and money, not to mention your brand.
This article concentrates on your web design and hosting support. We have a few items to check before your next website build to ensure you have the support options you need.  
---
Transparent, efficient process
Planning the build, gathering client content, planning website structure, designing each page, testing for quality assurance, and launching the website is an example of a web design process.  Ensure you have a process or your web designer has a transparent, efficient process to build your site.

Promote your site launch
A new website is to be promoted.  Marketing campaigns or a simple social sharing will bring attention to your latest efforts. Great for reminding everyone that you are dedicated to continuous improvement and high quality.  Let your efforts shine. If you have a web designer, they too should share the launch of your site to their fans.

Valuable newsletter subscription
If you choose a web design company to support your website, then ensure they have a newsletter that is helpful and informative.  Get added to the mailing list to keep up with the latest in web design, so you don't have to.
Informed of events
Inevitably your business will have events.  Charity, special sales, or workshops are examples of events that may need shared with clients and the public at large. Be sure to use your website to keep people informed. If you have a web designer, they should also be able to help get the word out!

Support options after launch
Website support can come in different forms. Content updating, hosting changes, adding email addresses, SEO, and blog writing are all examples of ongoing support that may be needed. Whether you take it on yourself or need your web designer to assist, know your options so you are not surprised later when you need something in the future.

Website Content and Security Updates
This is very important when paying a web design company to build and maintain your site. If you do not want to learn all aspects of web design and hosting, then you will likely need security updates without asking and content updates handled as needed. These services cost extra in the form of monthly subscription or hourly rates. Know this upfront!
Directory listings
You need accurate and informative directory listings. There are services out there that will monitor and update your directory listings. Listings should include phone number, address, email, website, and pictures when available. They help in many ways to ensure people can find you when actively searching for your type of service or product.
Quality referrals
You will at least have a hosting provider, if not also a web designer that also provides hosting. These companies – including ours – should have quality referrals for services they do not provide. Make sure you are choosing a partner for your web presence that is invested in your success.
Update your contact info easily
Web designer, hosting company, and domain services will all need to have your contact information. If it needs updated make sure it is simple and painless with a client portal or email. Credit card on file? That will also need easy access to update.
Add others to your account
Have someone in-house that can update your site and contact info, then you will want to ability to set up a user and password that allows them access to your site. This will likely have specific permissions to be set so they cannot access all things in the account you may not want them to change.
Review your subscription anytime
You are paying monthly or yearly for services you should be able to clearly understand what you are paying for. If Comcast can do it, your website provider should too.
View your invoices anytime
Like your ability to review your subscription, you should also be able to review invoices. Having an automatic withdraw on a credit card is convenient but having invoices allows you to verify and expense with confidence.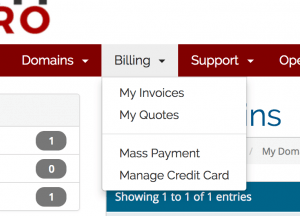 Easy support contact options
Email, chat, phone calls, tickets, Twitter, etc. are communication channels to reach your web and hosting provider. Make sure your provider has your preferred method available.
Manage, register or transfer domain
We covered this in our Hosting Checklist, but it is also true for support. To transfer or change domain settings, you will need a simple process. This is your domain, not theirs! If you want to purchase more domains, it should also be painless. Ask how easy these things are done.
Knowledgebase and documents
You are a true D-I-Yer. That is great and you should have access to your web design and hosting knowledgebase. Take a look and see if it meets some of your needs. We have one but also will provide other support to help update content and learn the content management system.
Positive Online Reviews
Check out the reviews. We have been burnt before for not looking into reviews of a company when contracting them for services. BBB, Google, Yelp, etc. can provide an insight. Don't just look at the stars or the grade. Look at how the company responds to unsatisfied clients. Sadly not all clients are a good fit for the company they contract. We do try to partner with clients that we think will make great long-term partners. Some companies will take on all clients even if not a good fit, and this can lead to bad reviews. Then again, so can terrible customer experience. Know the difference when looking at online reviews.
---
Check out the next part of our series below.  Creative Boro has developed a Website Buying Checklist in order to help and educate everyone that needs a website.